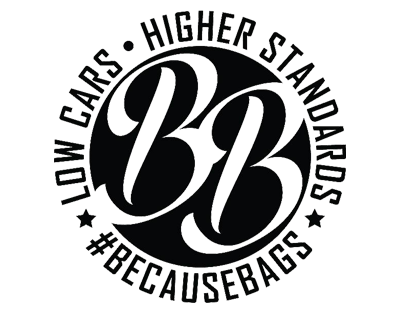 "LOW CARS & HIGHER STANDARDS"
Whether you are slamming your car to the ground or building a race bred track suspension we are capable of installing the perfect air suspension for your needs. Air suspension offers you the best of both worlds. With the touch of a button you can slam your car for the show or raise it up to tear up your favorite track. With air springs you have the ability to instantly adjust ride height, and spring rate. This adjust-ability gives you the option of comfort, sport, or slammed suspension with the simple push of a button. All of our installs are guaranteed for 1 year.
Ask our Sprint Motorsports expert staff how you can get #becausebags products today! We carry their full line of products available. Contact Us for more information, or to order.
Air Suspension Installs + Fabrication in Tracy, CA
#becausebags is a Rennwerks company that specializes in prolific custom products, kits, and parts, for Air Ride Suspension Systems.
How it Started
#becausebags was started in 2013 by James Osborn. With professional experience starting in 1998 repairing, maintaining, and modifying cars of all makes he has made a reputation for quality work and high standards.
While doing work for his friends out of his home, and working for other high end bay area shops. He decided it was time to open his own shop but, James needed help. So he turned to the community and found some of his trusted friends to bring aboard. With a wild mix of Ex Network Administrators, Financial Analysts, Machinists, to European parts suppliers we have an eclectic group of dedicated employees. The one thing that brings us together is our dedication for quality work and our passion as enthusiasts.
GET #becausebags
CONTACT US
See all of the brands we carry at Sprint Motorsport. We carry more than 50,000 products. If there is something you are looking for, and you can not find it, Please Call 1-209-926-9333